reddot design award "best of the best" 2018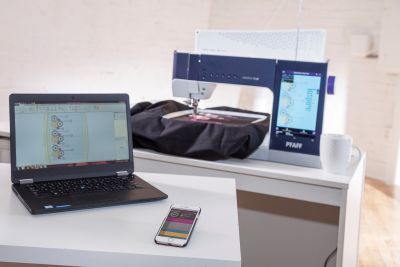 Zitat aus der Medieninformation: "Im Oktober 2017 sehr erfolgreich eingeführt, hat die neue PFAFF creative icon den begehrten reddot design award best of the best - für wegweisendes Design gewonnen. Wir sind mächtig stolz und freuen uns sehr über diesen tollen Preis. Die Neue ist nicht nur wegweisend in Punkto Design sondern auch in ihrer Leistung - eine der ausgereiftesten Näh- und Stickmaschinen der Welt:

An jedem Ort kreativ sein dank WIFI und cleverer App
Tablet-ähnliche Bedienung: wischen, zoomen mit dem 10.1 " Touchscreen
Integrierte Bedienungsanleitung
Riesige Näh- und Stickfläche
Absolut präzise Nähergebnisse dank Sensortechnologie
Unglaubliche Durchstichskraft zum Verarbeiten von extrem starken Materialien
Ganze Nähvorgänge werden am Touchscreen animiert dargestellt
Im Forum gibt es den Testbericht von Tanja zur Maschine und wer sich für die kleine Schwester performance icon™, die "nur" nähen kann und ohne Stickfunktion ist, interessiert, der wird hier die ersten Informationen zu der ab Sommer auslieferbaren Maschine finden.