Elna's quarter-yearly seam allowance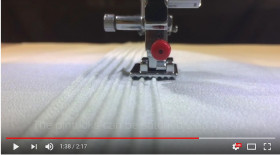 You can find it here. There will be a sewing manual additionally to the News about what's on sale and about how to trade your old machine for a new one. With this you can sew the cube-pillow out of Gütermann fabric yourself.
I find it interesting that they implemented ELNA sewing videos onto their website as a new feature.
The video is fitting well to our new "Lexikon" entry for tucks. You can find these videos on Youtube or very easily through easy navigation through the homepage of the company.
Company:
Sachsenring 10
24534 Neumünster
Germany